Posted on noviembre 24, 2020 by Monica Vera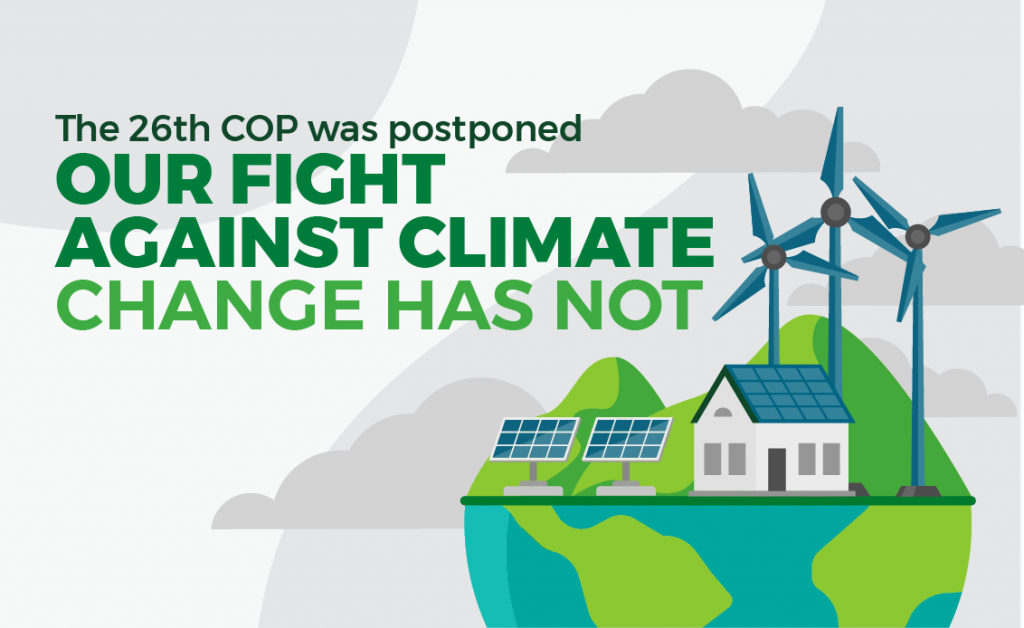 Due to the COVID-19 pandemic the COP 26 (scheduled for november 2020) had to be postponed and will be held in Glasgow from the 1 – 12 of november in 2021, nevertheless our work has to continue now more than ever, but before we tell you what we are doing to contribute to the fight against climate change, we want to show you  the importance of the COP  (United Nations Climate Change Conference of Parties) for you, humanity and our future.
The United Nations Climate Change Conferences are yearly conferences, they serve as the formal meeting to assess progress in dealing with climate change and establish legally binding obligations for developed countries to reduce their greenhouse gas emissions.
So far this is what they have achieved:
1997: The Kyoto Protocol is adopted with a commitment to reduce emissions of greenhouse gases in industrialized countries. The foundations of the carbon market were established.
2007: All countries are included in the protocol and not just developed ones.
2009: Developed countries commit to long-term financing for developing countries.
2015: After twenty years of negotiations, the Paris Agreement is unanimously adopted to keep global warming below 2 °C.
2019: The IPCC declared that in order to limit global warming by 1.5 °C, global greenhouse gas emissions must be cut in half by 2030, and a net zero emissions balance reached by 2050.
Many times we say "no matter how hard you try to help, change is not generated by a single person", and this is theoretically true. This is why these conferences are so important. Those massive changes come from these meetings. Now, we cannot leave all the work to others and that is why we all must work for our planet.
Florverde Sustainable Flowers works hard to make all the flowers certified with its brand, environmentally sustainable. FSF encourages growers to adopt energy efficient processes and requires them to minimize the use of energy intensive inputs such as fertilizers and pesticides, growers must also conduct preventive maintenance of electric equipment and implement reforestation activities using native species.
FSF also encourages the reduction of chemical products that pose dangers to people and the environment. It does so by encouraging growers to use alternative forms of pest control and fertilization, this might include Integrated Crop Management techniques, natural compost or mechanical alternatives to pesticides. If fertilizers are needed, they must be applied using soil analysis, growers are also prohibited from using banned chemicals  listed by the World Health Organization, U.S. EPA, European Union authorities and national laws.
Click here: https://florverde.org/blog/gifts-from-the-earth-that-do-not-affect-the-ozone-layer/  If you also want to know about how we are managing to change refrigeration equipment and protect the ozone layer
It is a pity that COP29 had to be postponed, but while it is reinstated in 2021, we will continue working to enjoy this world by taking care of it and you can do your part by buying flowers with Florverde´s Sustainable Flowers certification, as you have been doing until now.
Thanks for your support.