Posted on mayo 14, 2019 by Comunicaciones Florverde
With the objective of stimulating and reflecting on good practices in floriculture, the Floriculture Sustainability Initiative (FSI) introduced the evolution of the FSI Basket of Standards with the addition of a new environmental scope.
A total of 14 international voluntary sustainable standards and schemes make up the FSI Basket. They are fully transparent, comparable and by way of independent benchmarking, comply with basic requirements of social and/or environmental and/or good agricultural practices (GAP).
With the evolution of the FSI Basket of Standards, stakeholders are encouraged to adopt and recognize their 
social criteria with the SSCI compliance
, their 
good agricultural practices with GLOBALG.A.P benchmarking
 and their environmental aspects with the 
new environmental benchmarking 
of the FSI Basket. (See image below)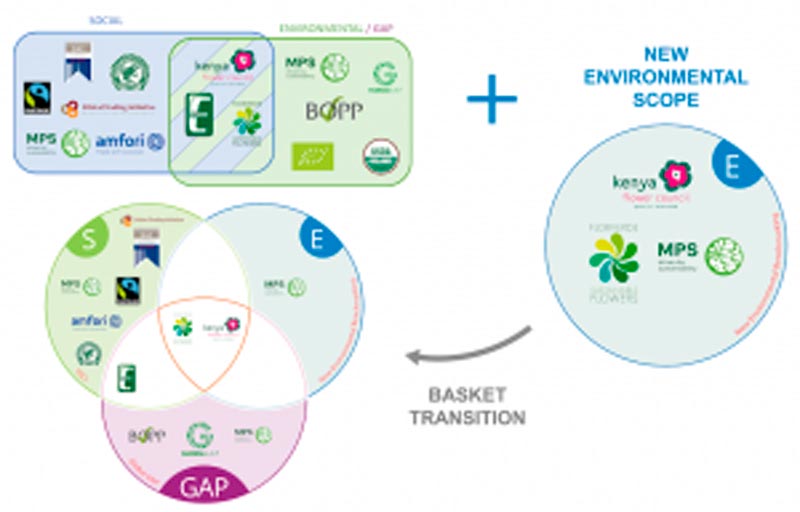 Florverde Sustainable Flowers is one of the first schemes that have been admitted and recognized for the environmental scope of the FSI Basket of Standards.
Up to date, only Florverde Sustainable Flowers and Kenya Flower Council Silver Standard comply with the three scopes of the FSI Basket of Standards demonstrating the robustness of the FSF certification.
ABOUT FSI:
The Floriculture Sustainability Initiative (FSI) is a multi-stakeholder initiative that brings together members of the international floriculture supply-chain. FSI members collaborate to improve practices and drive positive change towards the sustainable production and trade of flowers and plants