Posted on agosto 13, 2018 by Comunicaciones Florverde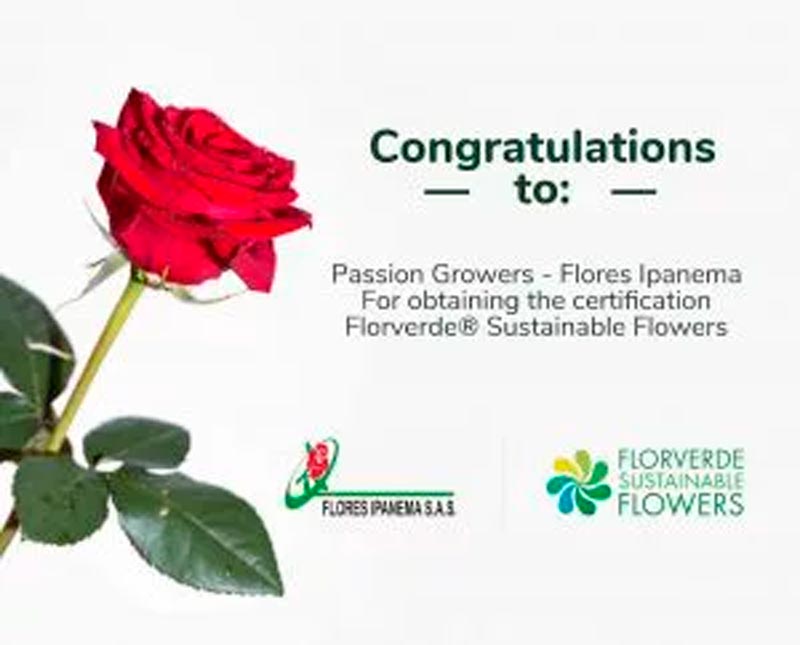 Passion Growers – Flores Ipanema. Latest FSF certified company.
At Florverde® we are very pleased to welcome a new flower company to our sustainable community.
Passion Growers, founded in 2001, is a family-oriented company dedicated to growing and providing the most beautiful and highest-quality roses. Passion Growers' 200 varieties of roses can be found in more than 5,000 retail and grocery stores around the United States, and online under the brand name Passion Roses.
Passion Growers farms are located in the savannah just outside the capital city of Bogota, Colombia, where the roses are grown in the most ideal conditions. Flores Ipanema are one of the providers of roses for Passion Growers in North America.
For Ximena Franco, director of Florverde®, "We welcome Passion Growers – Flores Ipanema to our sustainable community after completing all the social, technical and environmental requirements to obtain the Florverde® Sustainable Flowers certification. On behalf of the technical team at FSF we would like to congratulate all people involved in making this achievement possible for Passion Growers – Flores Ipanema".
Get to know our latest FSF certified flower company in this touching video:
Written by: Alejandra Laiton – Digital Manager Florverde Sustainable Flowers.